Hosting
Managed Hosting
FirmSupportís datacenter is tailor made for mid-size hosting clients that are looking to outsource application hosting. Our support staff will help setup and configure your application to work effectively. The benefit of outsourcing your application with FirmSupport is simple, your staff can concentrate on building your business while we concentrate on managing your application.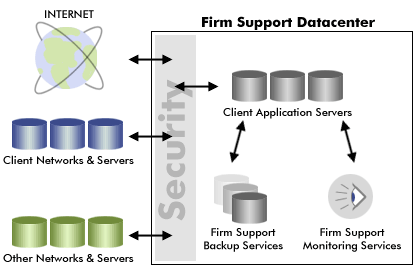 FirmSupport provides the following services:
Collocation Services
FirmSupport has a scalable solution to fit your needs. You can host one server or an entire rack. Regardless of your size all customerís are able to benefit from state of the art equipment and service. Smaller solutions are also available where multiple clients share a server to reduce the cost.
Monitoring and Performance Services
FirmSupport can monitor your application for uptime and response. Your personnel are notified of problems or outages immediately upon detection. Our professional services staff can then help diagnose and solve the problem.
Security Services
Our secure datacenter is in the confines of Tech City in Kingston, NY. This high tech facility is a hub for high tech companies since it's conversion from IBM several years ago.
Storage and Backup Services
FirmSupport offers back up services that your business can take advantage of in order to ensure the safety of your data. Backups can be performed as often as nightly or upon request.
Support and Professional Services
FirmSupportís experienced professional service resources can help support your application and make recommendations on how to enhance and improve its performance.