Professional Services
Every project needs a plan to ensure a timely and profitable completion. Our experienced consultants can aid in gathering requirements and estimating costs. We can be involved with building the project plan or can be inserted mid-stream to assist in its completion.
FirmSupport consultants can provide short or long term assistance with many of the high demand skill sets needed in technology development. We specialize in providing innovative development coupled with superior expertise in the area of managing client expectations.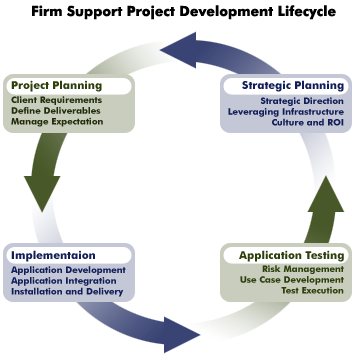 A critical success factor for any application is a quick and accurate implementation. Both technology and business change needs to be considered and managed properly. This is where our experience in systems integration can help. Leveraging currnet technology is paramount in keeping development and training costs low.
Finally, at FirmSupport, we pride ourselves on the fulfillment of all client expectations. This is reinforced during the final stage of end user training and application testing. Adequate testing of any implementation will help to guarantee a successful project.