Professional Services
Executive Consulting
FirmSupport offers expertise with selecting and implementing strategic technology and resource planning solutions. Our Executive Consultants can help guide your company to make the correct strategic decisions in the following ways:
Provide integration recommendations for various business units like e-business, supply chain, business intelligence, and customer relationship management by leveraging your existing technology and making recommendations on how to remove bottlenecks. The result, a smooth flowing information and communication infrastructure.

Provide recommendations for business process redesign. This helps to take advantage of your technology infrastructure, makes for simple modifications, and aids in the delivery of mission critical data to the correct decision makers.

Provide recommendations for IT infrastructure to support and plan for growth, expansion, and replacement. Our experts can aid in the decision to use existing internal resources or vendor resources.

Provide recommendations on employee education and training so that your enterprise can absorb change effectively and successfully.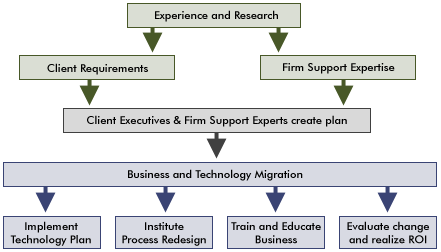 FirmSupport's Executive Consultants have an array of experience providing technology council for large Fortune 500 companies. FirmSupport has industry specific experts that can help your business grow and thrive in today's economy.

If you are interested in the services above please call
914-418-4001 Ext. 1
to speak with a representative or email us at
info@firmsupport.com
.